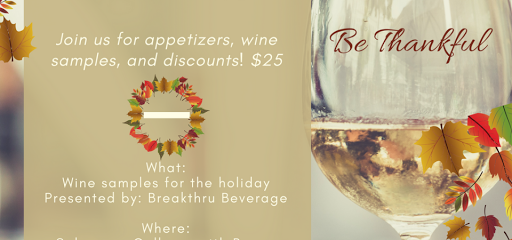 November wine sampling
Start: Thursday November 16, 2017 at 6:00pm CST
End: Thursday November 16, 2017 at 7:30pm CST
Breakthru beverage presents us with 10 fabulous wine samples to taste!!!! We will be serving homemade hors d'oeuvors along with the samples!

Enjoy 10% your ENTIRE wine order just for participating!

We are offering a full glass of your favorite sample AFTER the event, so stick around for the band Dirty Canteen!

$25 pay at the event. Cash preferred, credit cards accepted also.